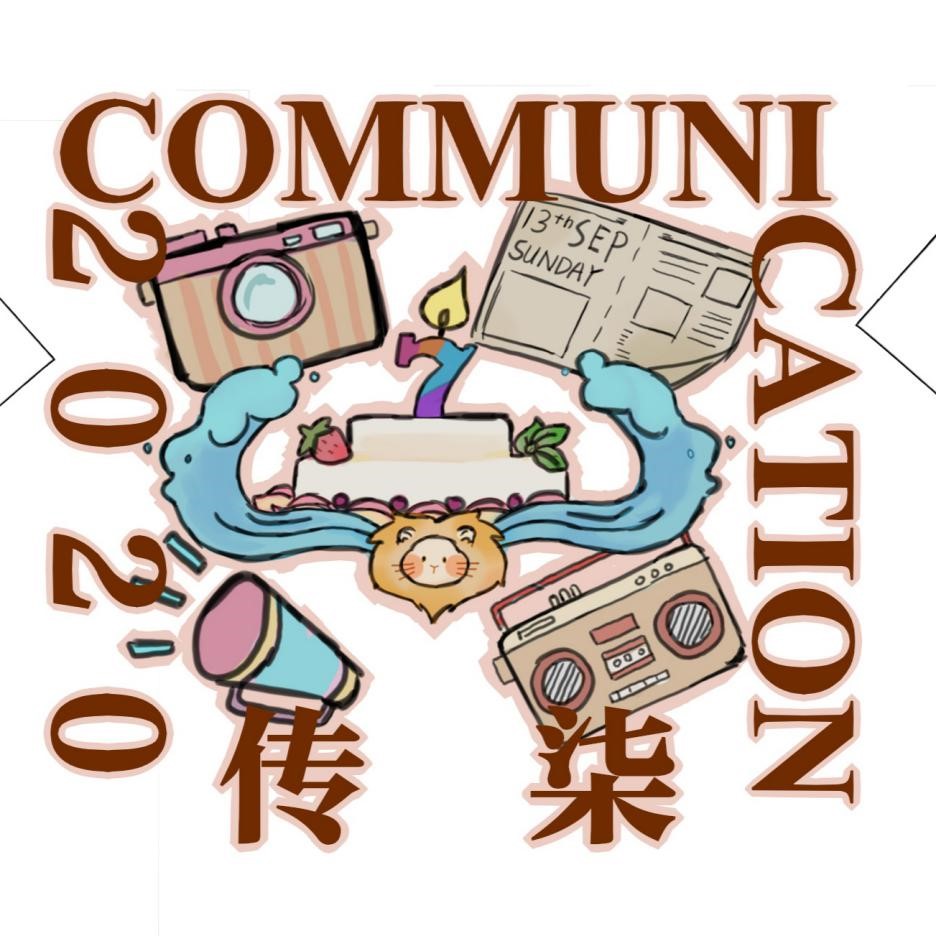 Editor's Note: Under the theme of "Challenge and Change", the second English writing contest of SCNU has came to a close with over 280 articles from 28 schools and colleges. We recognize all prize winners for their excellent performance. Awarded winners have been announced (see results), and all winning articles will be published in this column.

-------
By Li Jingxuan
With some 90 days passing away, while sitting in the lecture hall, listening to a course with a sleepy head, and mulling the design of my composition for the competition of English writing, I can still remember a downhearted girl in early September last year. The once dispirited eighteen-year-old freshman, who chose SCNU for her next 4 years without any other choice, was suffering from depression, escapism, chewing her days with a lack of motivation and a sense of break-up hurt. Those four sentiments plus a sense of diffidence stuck in her head then have somehow changed into acceptance, a positive mind, active reaction, serenity and confidence, braving the rolling waves for her to lead a better life.
That girl is me. In the past, I chose SCNU passively, now I am choosing my own life actively. Here is my story, telling how the five toxic feelings transformed into five brand new attributes.
"I am a strange girl who has long been regarded as a genius since a very young age, living without any other target but only to develop my talent. However, when my childhood dream faded away, I found that I possessed nothing but my dream of being a genius, the weakness of the odd." As the Chinese writer Eileen Chang wrote in My Genius Dream, I have long been seen as a genius by people all around me. Deluged and deluded by such a perception, I gradually accepted deep in my heart that I was somehow talented.
So when I saw the score and the rank of the gaokao, i.e. the college entrance examination, feeling peaceful at first, I was soon drowned by a sense of depression afterward. In such a low spirit I finished the book containing information on all Chinese universities, and found that the major reading Communication at SCNU was the best choice, whereas universities like SCNU were totally out of my consideration when I was in high school with my genius dream. Depression was the first toxic feeling getting in the my way of a thriving college career.
Possessing a depressed mind, stepping onto the campus of SCNU, I instinctively held an escapist attitude towards my schoolmates. I didn't have the desire to make friends, scared of making acquaintances. When facing my daily classes, I was inactive. I felt exhausted for whenever I made up my mind to dive down into those lines in my textbooks, I would be reminded of my failure: how hard I had studied and how pathetic my gaokao score looked. In addition to the three mentioned passive feelings, what lay in my heart was a great hurt of break-up, which to a great extent was also because of my low score. The four harmful feelings mixed in my mind, blending into a new toxic one, diffidence, with which I was always awash in thought. That I was an incapable person and thus didn't believe I could handle things well.
Knowing that I had to write an autobiographical essay of at least 3,000 words, I wrote everything down, talking to the text on my computer, trying to relieve my pain using my bleeding turn of phrase. I thought it was just a formalistic piece of homework and woudn't be read seriously.
A month later, at the first meeting with my new classmates, receiving a reply by letter from the assistant of the head teacher, I was more than surprised. The assistant, who was just four or five years older than me, said in the letter that I had done better than most people like her, for example I could use many drawing applications skillfully. She said that instead of the tragic girl in my article, what she had seen was an unyielding heart and an aspiring young woman who always tried to climb. Shocked and touched by the warmth in her words, a totally different view came up. I suddenly realized that life at SCNU was quite cosy and less competitive than at those so-called "top universities", allowing me to explore my true interest.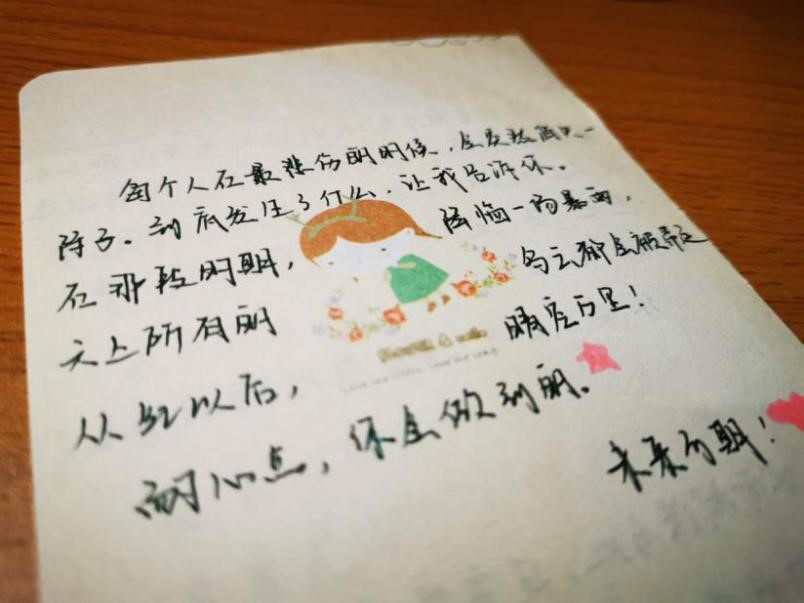 The letter from the assistant of the head teacher which gave me great comfort.
At the same time, I started making acquaintances with my classmates whom I had wanted to refrain from contacting with. Scared of those terrifying greetings, I somehow found that they were actually very friendly. I was lucky to have an interesting and considerate a group of roommates, who backed each other up when someone broke up a relationship and who comforted each other when someone thought of past miserable events. When I asked senior students with fear for some advice, what I received was always a warm and detailed reply. Warmth from roommates and kind consideration from seniors in the student association turned my escapism into a positive emotion.
After the first get together with classmates, our courses started. My major is not as hard as those of my former classmates, for we don't have to study maths or any other science subjects. In the beginning I was afraid of lagging behind my former talented friends, who majored in either Big Data or Computer Science, or other recently popular majors. But looking at my class schedule, I could see many different ways before me, waiting to be chosen by me. A variety of courses gives me access to obtain knowledge in different fields, such as art, journalism or photography, which may be exactly what my busy former classmates want. I realized that I had chosen the right major at least for now, for putting those interesting compulsory courses aside, I had much free time to learn what I want, even dipping into other majors. In addition to my drive to studying the compulsory courses, I have joined an extra on-line class and started to learn programming. My original lack of motivation has changed into activity now.
By then, I had settled three toxic feelings, but there was still a heart knot tangled in me. I couldn't help thinking about my past relationship at night, sometimes reduced to tears. Unable to erase the memory, doubtful of my own value, I stepped into a busy life. I designed a logo for my class, which earned widespread favor. I joined street dance performance, which received grand applause. The company of friends I met at the street dance club made me understand that I am unique and there is no sense to pegging my value to the past relationship. I gave less and less importance to my win or loss in the previous relationship. The heart-break hurt is changing into serenity.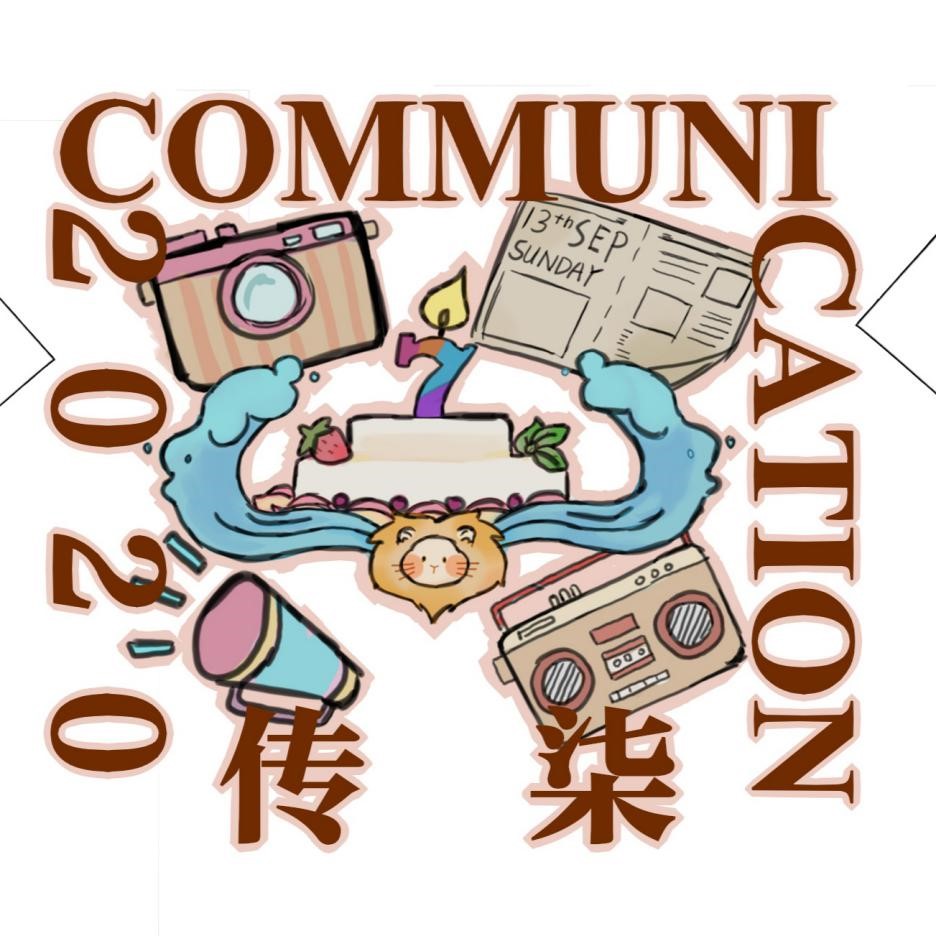 The logo I designed for my class.
With four toxic feelings addressed, now there is only one toxic feeling left: diffidence. This feeling is also slowly turning to the bright side. For my physical education class I chose volleyball. My fear of my being unsuccessful in this course was based on the fear that I could not pop the ball 60 times in final testing. Now I can proudly say I have managed to pop the ball 71 times, with still three weeks to go till the final testing. I was afraid of being laughed at when I joined the dance club, but now I have made it to perform with extraordinary effect. The diffidence is changing all the way into confidence.
Now I have wiped aside depression, escapism, a lack of motivation a sense of break-up hurt, and diffidence, leading my life all the way up with acceptance, a positive mind, active reaction, serenity and confidence. Four months ago, I chose SCNU without other choices, but now I can choose my future life with millions of choices. I realize I should always look on the bright side, never be afraid to lose my strength. Toxic experiences can be changed into an unfolding colorful life. I agree with Eileen Chang on expression that "life is a gorgeous robe, full of lise", but I would rather quote it as "Though full of lise, life is a gorgeous robe". My choice from passive to initiative convinces me that I have the very power to wrestling with challenges, and am bound to have a thriving future.
What to read next: