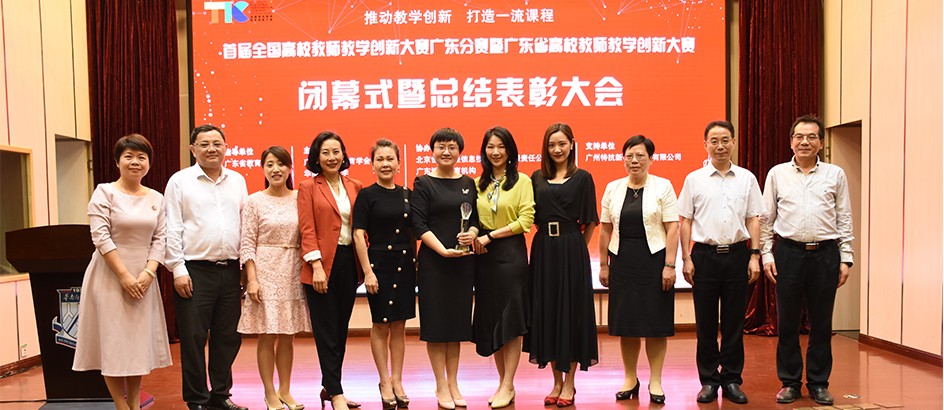 SCNU won a total of 12 awards in the final competition of the first National Teaching Innovation Contest for College Teachers (Guangdong province), ranking at the top in terms of the level and number of awards.

SCNU won two Special Prizes, four Second Prizes, a Third Prize and three Excellence Awards, and the two special-prize winners also awarded the Organizing Excellence Prizes.
Among them, the team led by Xia Baojun, an associate professor of the School of Information Technology in Education, and the other one led by Liu Zhe, an associate Professor of the School of Mathematical Sciences, were awarded special prizes, the best award of the competition. In total, there were only nine special awards for the winners, and they will be qualified to enter the national contest on behalf of Guangdong province, according to the organizers.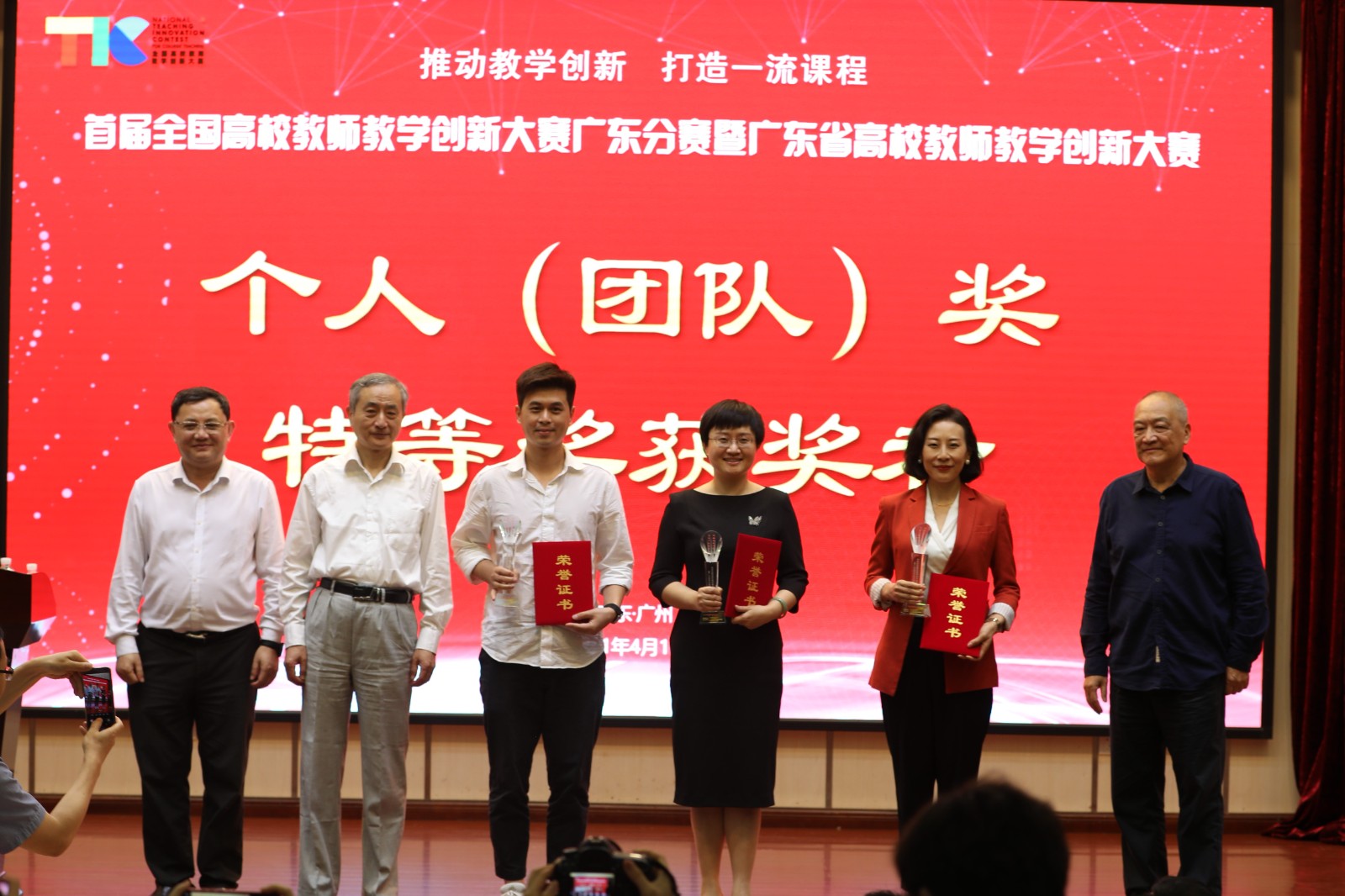 Special Awards were received by Xia Baojun and Liu Zhe (2nd and 3rd from the right, resp.)
Xia Baojun and her team presented a course in public relations at the contest. She said a simulated press conference practised in class, let students play an active role in selecting their topics, working on content and demonstrating their projects. Besides, they created their classes featuring integration, guidance and experience by applying a variety of innovative teaching activities, teaching methods and educational information technology means. Thus, an immersive classroom experience is provided to students with the use of situational simulation, role play, guided workshop and other forms, she added.
While Xia Baojun's team concentrated on the students' role in class, another special prize winner laid more emphasis on content building and methodological innovation. According to Liu Zhe, her team developed a real teaching and research situation for teacher training university students by taking advantage of information technology to act out "primary school students in university classes" and "university students in primary school classes" activities. They also established the U-G-S (university, government, school) double tutorial system, which offers students to connect with their off-campus mentors in real time regardless of distance.
Guided by the Department of Education of Guangdong province, the contest was co-organized by the Guangdong Association of Higher Education and SCNU. With the theme of "Promoting Teaching Innovation and Creating the First-class Curriculum", the contest fully reflects the requirements of implementing the fundamental task of moral education, and helps to develop a quality learning community, said Tang Zhenmin, executive vice president of the Guangdong Association of Higher Education, at the closing ceremony.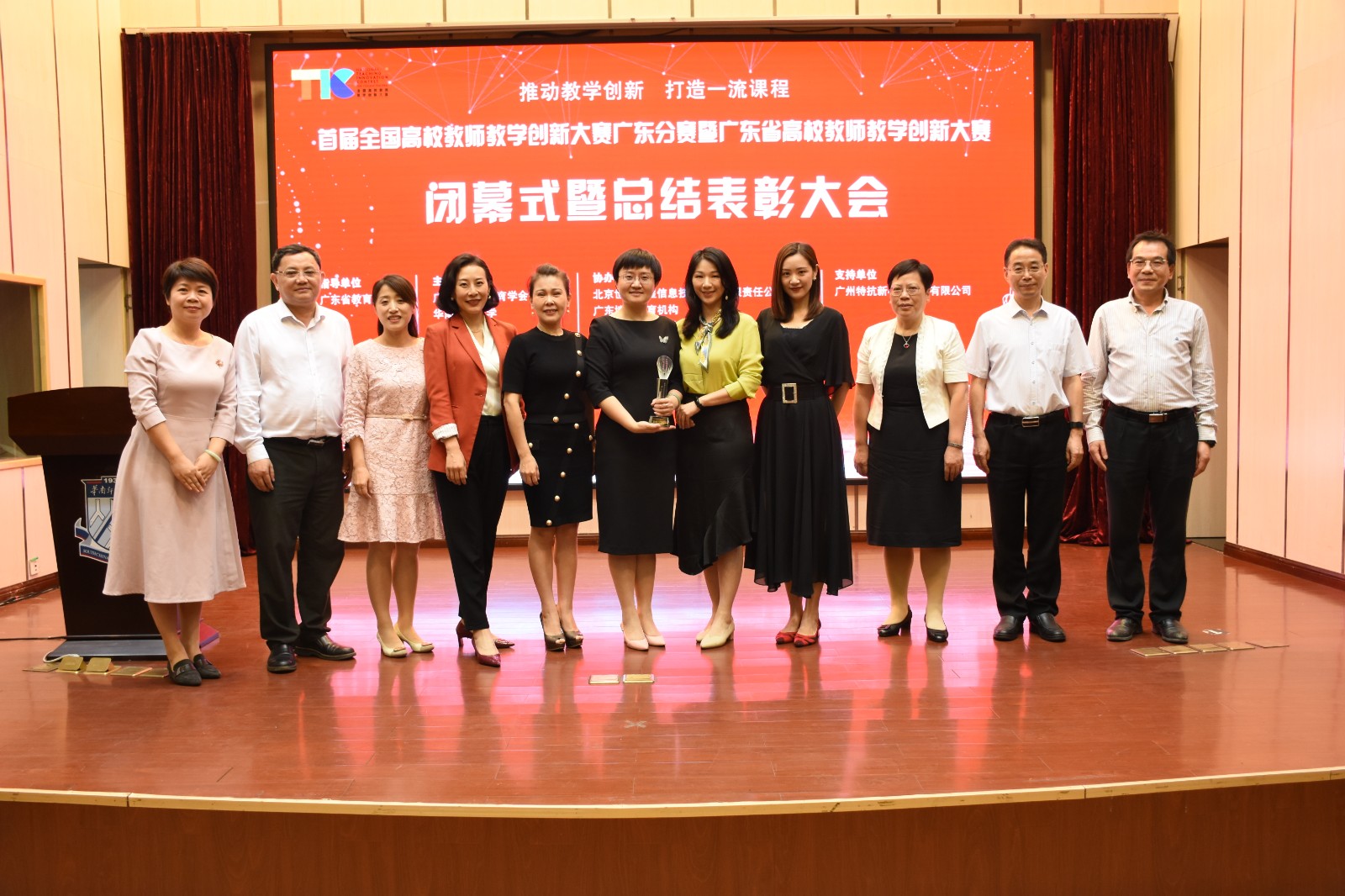 A group photo of the SCNU winning teachers and SCNU president Wang Enke (left two)
Starting from last October, this year's event has seen 1,207 teachers from 66 universities including teams across the province participate in their school tryouts. After a qualification examination, a total of 326 individuals and teams entered the online preliminary of the competition in Guangdong province, and 101 works got access to the on-site final, which was held from April 9-11 at the Shipai campus of SCNU.
For more information about the prize winners, please check here.
---
Source from SCNU News Center
Translated by Xu Yirui
Proofread by Edwin Baak
Edited by Li Jianru
What to read next: