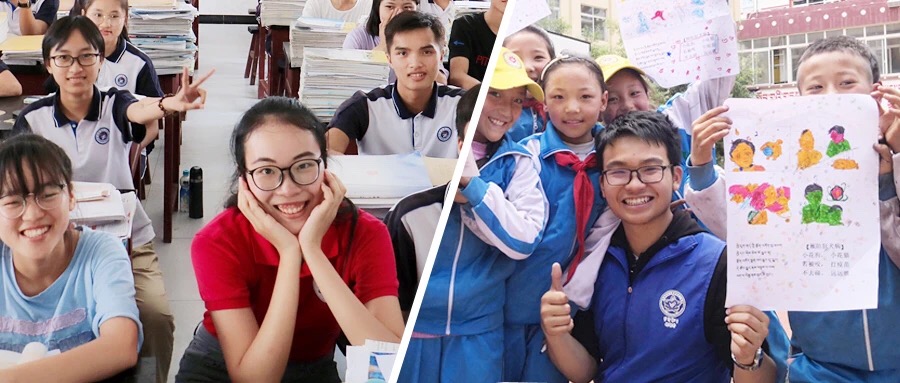 Early this May, the results for the 2020 National Upward and Virtuous Youth Award and Outstanding Communist Youth League Members were announced, which recognize the extraordinary contributions made to the country by China's youth.
He Zhisheng, a postgraduate of SCNU from the School of Chinese Language and Literature, stood among the 18 awardees nationwide winning the title of "Studious and Motivated Youth" in the 2020 National Upward and Virtuous Youth Award — the only college student to receive that award in Guangdong Province. Another student, Guo Qiqi, a postgraduate from the School of Physics and Telecommunication Engineering, was awarded as a "Outstanding Communist Youth League Member". Both of them have made the time of their youth worthwhile by actively devoting themselves to volunteer work.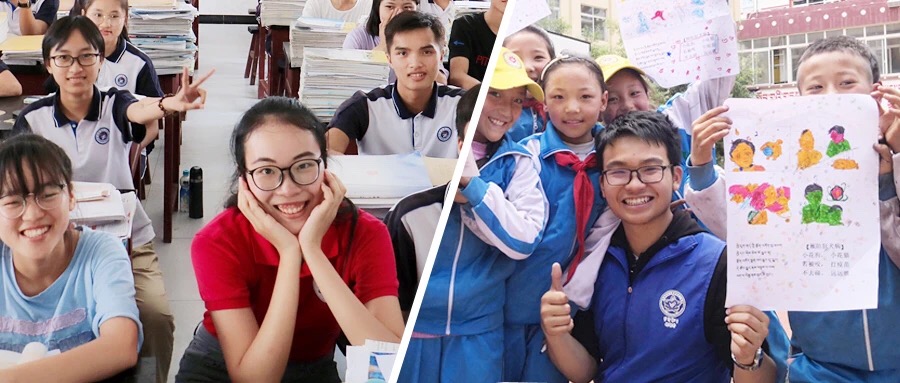 Guo Qiqi (left), He Zhisheng (right)
Guo Qiqi: volunteering is what I love and will keep doing
As a member of the 19th Postgraduate Education Support Group of SCNU, Guo Qiqi went to Luodian, in Guizhou Province and volunteered to teach there for a year. Qiqi was faced with a big challenge when she first arrived at the school. She found that students' academic performances varied greatly. Despite the differences, Qiqi made up her mind not to give up any of her students and finished her teaching work step by step.
"I always keep a young heart and treat my students as friends," said Qiqi when she talked about the students with a relatively poor performance. It turned out her teaching method achieved good results soon. More students came to her office and consulted her after class. Their interest in learning physics was also motivated, thus leading to a good performance in the exams.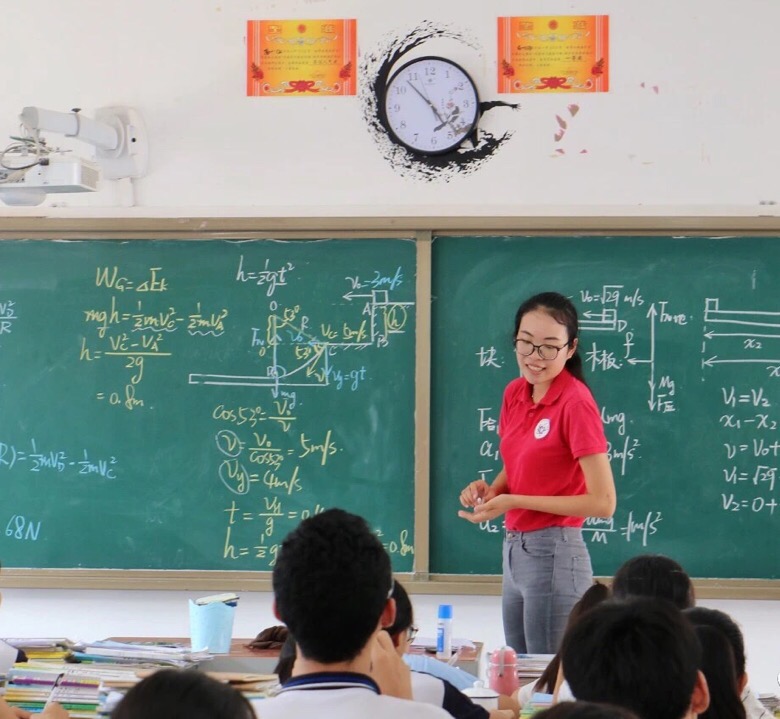 Qiqi does volunteer teaching in Guizhou
"On my birthday, I was moved when I knew they prepared a surprise birthday party for me. The friendship between me and my students is the best reward I got from this experience," said Qiqi, whose hard work was appreciated by her students.
Apart from the teaching work, she also played an active role in the local poverty alleviation program. Batik or Chinese wax printing, and bandhnu, a method of producing dyed, multi-colored textiles, are traditional handicrafts and part of the intangible cultural heritage in Guizhou. However, they are hardly known to the young people due to a lack of promotion.
In these delicate handicrafts, Qiqi discovered a solution to the poverty problem. She founded a non-profit organization and started a project to help people get the training needed to take up making handicrafts as their jobs. This project not only helps to preserve the traditional handicrafts, but also eases the local unemployment problem effectively. During the COVID-19 epidemic, Qiqi also signed up for the on-line teaching program organized by SCNU and provided on-line tutoring for children whose parents are medical workers.
Although she spent much time volunteering, she achieved a high academic performance during her undergraduate years. She won scholarships several times and her GPA was among the top 3% in her major during her four years at the university. As a postgraduate in the second year, Qiqi is going to graduate next year.
"I will go on volunteering. It doesn't matter whether I graduate or not," Qiqi expressed her wish.
He Zhisheng: bringing warmth and happiness to others
As a student, He Zhisheng is active in doing research and won a first-class scholarship. As a volunteer, he has much more to share. He once served as the director for the Young Volunteers Association of SCNU and participated in various kinds of volunteer activities, with an accumulated time of over 2070 hours. To bring good services to others, it's necessary to have careful consideration and put others' need in heart.
Two years ago, Zhisheng joined the "Go West University Student Volunteer Service Plan" and volunteered to teach students in Changdu, in eastern Tibet for a year. As a Chinese teacher, he not only imparted the knowledge effectively, but also tried to influence children's behavior and values by his words and actions.
He and his teammates also brought activities like scientific experiments, handwork, and interesting sports games to the classes according to the students' needs. The health lesson is one of the classes that was a result from their investigation. As they knew more about them, they found that some children who lived in farming and stockbreeding areas lacked the awareness to prevent infectious diseases. Thinking of their own experience of falling ill in Tibet, they decided to make a picture book to introduce the knowledge of infectious diseases.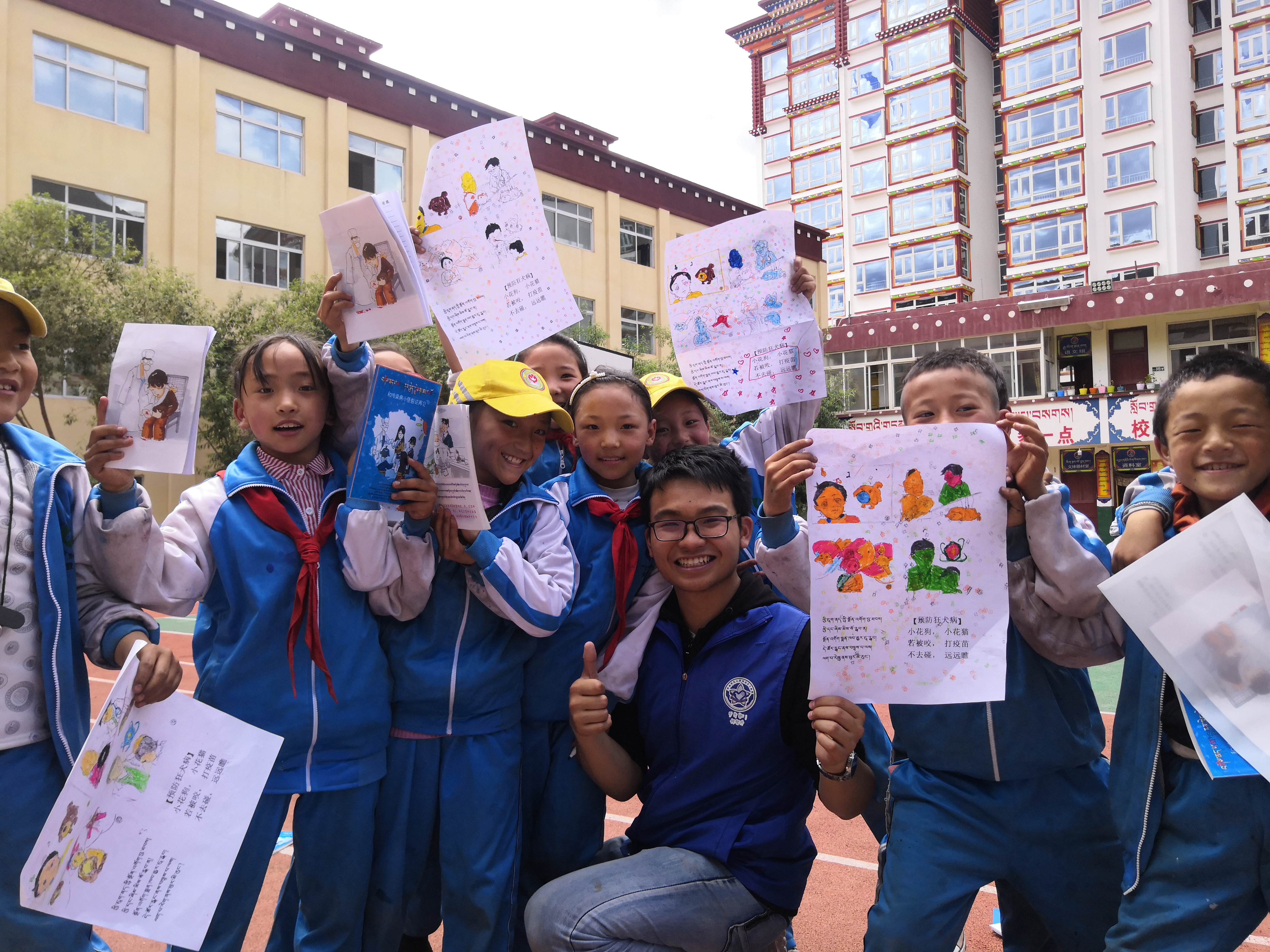 Zhisheng teachesTibetan students' health knowledge through pictures
With the help from many people, they managed to bring the picture book called Goodbye! Little Monster of Infectious disease to the children. Written bilingually in Chinese and Tibetan, the picture book introduces nine kinds of common infectious diseases with interesting stories and colorful pictures The books helped with their health lessons greatly.
In addition to the teaching work, Zhisheng spent time to care for children in the local welfare house and the special school. With his teammates, he successfully raised funds for local students, providing them with over 5,000 books, cotton-padded shoes and other necessities. During the winter vacation, he got to know a boy when he volunteered to provide on-line tutoring to children of medical workers. The boy was very interested in experimenting, and had a strong practical ability. To make the classes more interesting to him, he decided to deliver a package of experimental materials to him and conduct scientific experiments with him, despite his major being in Chinese literature. Soon they became close friends and even had funny nicknames for each other.
Sometimes a little bit creativity is also needed. Zhisheng recalled his memory of volunteer teaching in a football class, in which he faced the unexpected situation that many children came to class wearing slippers. To avoid injury and guarantee the participation of all children, he took off his shoes and socks and decided to teach them how to play football barefoot. Thus, the activity became more interesting. More importantly, it allowed all the students to enjoy the fun of football.
The warmth and happiness brought to others will be remembered. The night before he left, the children in Tibet presented him with a Hada, which is locally the highest courtesy. Some disabled people he had helped sent him a video to talk to him when he was absent.
"Volunteering is not merely a source of enjoyment to himself, but a means of bringing happiness and warmth to others. I feel a fulfillment of self-value in volunteering," said He Zhisheng.
---
Trans-edited by Long Yuchen
Proofread by Edwin Baak
Reviewed by Li Jianru
What to read next: